Russell Hudson shows how woodworking can be used to dress up and renovate an otherwise uninteresting wall.
This house was constructed in the late 70's. The living room's long fireplace wall was made entirely of white cement 'bricks' with black mortar lines between, which was neither warm nor inviting--(much less good-looking!). The new owners wanted the entire wall faced with display and storage cabinetry to surround the fireplace, with a new mantle piece to match. The only thing we left exposed was the stone firebox surround and the hearth's stone cap, which ran the whole width of the room.
In this first photo you can see the wall being prepped (the original bluestone mantel and shelves chiseled off) and tape indicating the position of the new woodwork to be accomplished (mantle, wall panels and the outside edges of the cabinets left and right). This allowed us to get a sense of how it would look in both size and proportion.
The homeowners wanted well-articulated woodwork but with bold details, rather than fine decoration. The finished product should be somewhat masculine, including straight lines, and should be substantial. To accomplish this effect, we created block-like corbels for the mantle rather than columns. All of the surfaces were paneled, and a single, large rosette was machined into the face.
All surrounding wall surfaces were paneled as were the cabinet's side walls. These are true 'frame & panel' surfaces, rather than simply rectangles of applied molding, which is commonly seen in many installations today. Each of the panels sits 1/2" below the surrounding wall surface (frame) with the inside molding placed on the panel and rising 1/4" above the surrounding frame, providing a richer effect. We also chose to insert glass in the upper doors.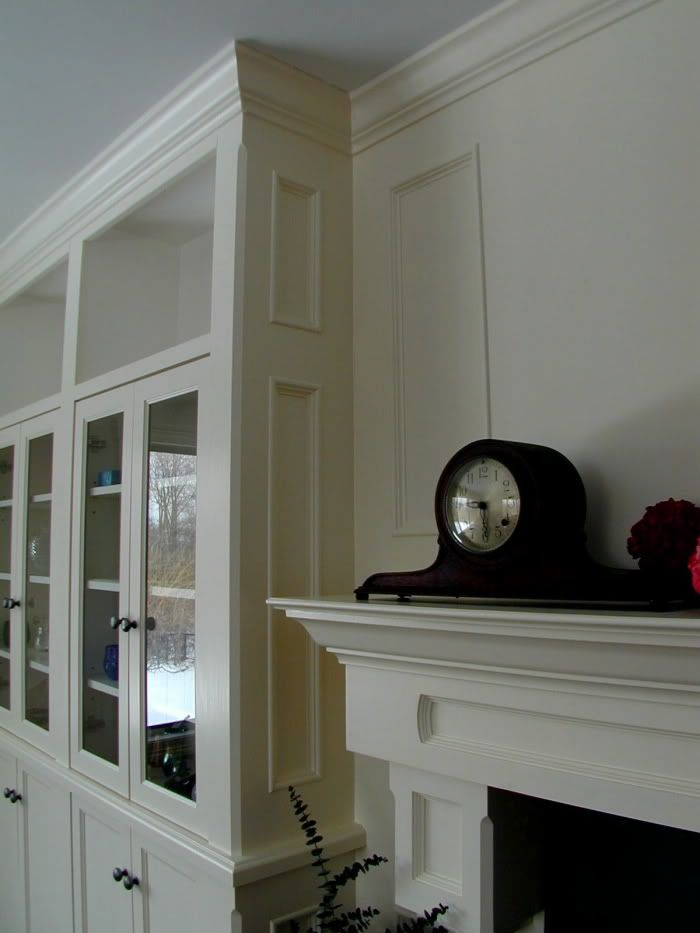 As you can see (comparing first picture to last), the tape helped indicate what the woodwork would look like when finished. These photos were taken before the homeowners personalized the space, filling it with books, pictures, art, crystal, and the painting they had in mind to hang above the fireplace. (I really should go back and take another picture now. Built-ins always look better when completely filled!)
As is often the case, they were pleased enough that they asked us to do two more projects for them. Their home is much cozier today.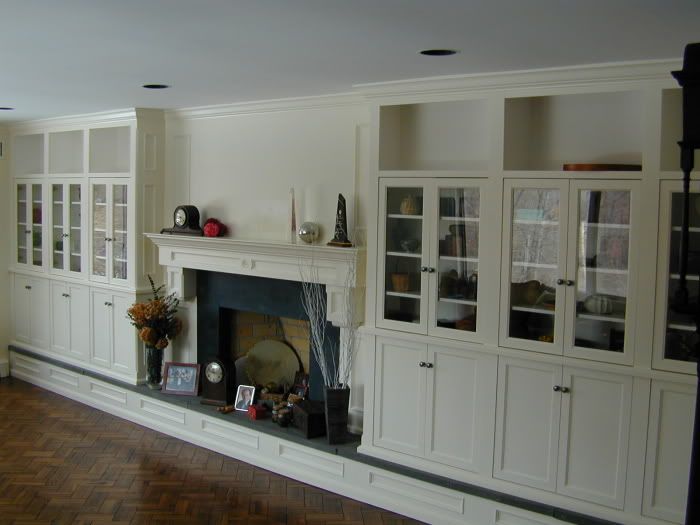 I hope this article will provide some ideas for the rest of you woodworkers out there. Please find me on the forums and/or visit my home page, which is accessible under my name.
Russell Hudson / Hudson Cabinetmaking, Inc.